Honoring Most Venerable Phrarajbhavanajahn
Honoring Most Venerable Phrarajbhavanajahn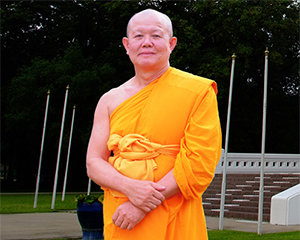 Phrabhavanaviriyakhun (Ven. Dattajeevo Bhikkhu)
Vice Abbot of Wat Phra Dhammakaya
On the anniversary of the King's Birthday on 5th December 2013 (B.E. 2556), His Majesty the King Bhumibol Adulyadej will perform his royal duty as chief ambassador of Buddhism by conferring the annual honorific titles within the Sangha hierarchy [Samanasak]. This year's recipients for the royal appointments comprise 71 senior monks from throughout the kingdom of Thailand.
On this auspicious event, Most Venerable Phrabhavanaviriyakhun (Ven. Dattajeevo Bhikkhu), Vice Abbot of Wat Phra Dhammakaya, Patumthani, will be honored with the new royal monastic title of Phrarajbhavanajahn (Vi.)
Most Venerable Phrabhavanaviriyakhun, in addition to his administrative duty of overseeing the temple affairs, has assumed the crucial role of teacher of Buddhism for over 40 years in his sterling monastic career. He has devoted his time to propagating Buddhism domestically and internationally, expounding on the Dhamma of the Buddha to monks, novice monks and the Buddhist communities so that they can practice it accurately. His works include countless Dhamma lectures, seminars, and a collection of Dhamma books that currently exceeds 140. His current teaching, "The Five Rooms of Life" – exploring the five major 'rooms' in everyone's life that have the greatest influence in developing and shaping our habits, has been well received by teachers and students all over the country. It has provided insights and techniques to cultivate strong habits of cleanliness, organization, politeness, punctuality and meditation. The teaching can be easily applied to one's life and can bring harmony and happiness into every family and individual of any gender and age, ultimately leading to virtuous and prosperous lives.
The monastic community, his loyal students and the general public consider the distinction of an honorific title deserving of admiration. Therefore, on this wonderful occasion we would like to offer our highest appreciation to Most Venerable Phrarajbhavanajahn for his royal appointment and to acknowledge the tremendous contributions he has made on behalf of Buddhism.