Kathina-Robe Offering Ceremony 2556 B.E
Kathina-Robe Offering Ceremony 2556 B.E (2013)
Sunday, 3rd November 2556 B.E (2013)
Wat Phra Dhammakaya, Pathum Thani Province

What is Kathina?
"Kathina", a term rooted in ancient Pali, has its literal meaning of embroidery hoop. Presentation of "Kathina" however refers to annual ceremonial offerings of robes or robe cloth - rather than the sewing tool itself - to Buddhist monastic community. Indeed, a Buddhist tradition of Kathina-robe offerings traces its origin back to Buddha's days when a group of Buddhist monks set out on a pilgrimage from their home town in Patiala to attend an audience with Lord Buddha at Jetavana Monastery. The trek, which spanned through to the monsoon season, had sapped their robes so thread by thread that each turned muddy, rain-soaked and battered by the time the pilgrims reached the Monastery. For this reason, Lord Buddha granted His permission that this group of Patiala pilgrims as well as the rest of Buddhist monastic community who had observed Buddhist Lent (i.e., a pledge to reside in a single place for the whole three months of monsoon season) be presented with new robes or robe cloth by lay supporters at the end of the period. This practice of robe offerings thus commenced and has turned into a tradition in our days, when alms may encompass not only the robes or robe cloth but also a variety of additional gifts: for instance, monetary contributions, flowers and assorted consumption commodities.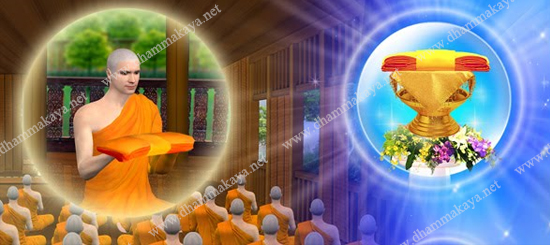 Who may offer and accept Kathina robes?
Eligible to be presented with Kathina robes is a Buddhist monastic community that comprises a minimum of five members who each strictly observed Buddhist Lent or the pledge to reside in a single place for the whole three months of monsoon season. Accepted as a common item, the Kathina robes shall be formally decided upon amongst the community and then bestowed to its one designated member. Any lay supporters - individually or in group with a delegate - may initiate a proposition to offer the Kathina robes.
Where to offer Kathina robes?
Kathina-robe offering ceremony generally takes place at Buddhist temples/monasteries with a minimum of five monks in residence that have each achieved strict compliance with the Lent.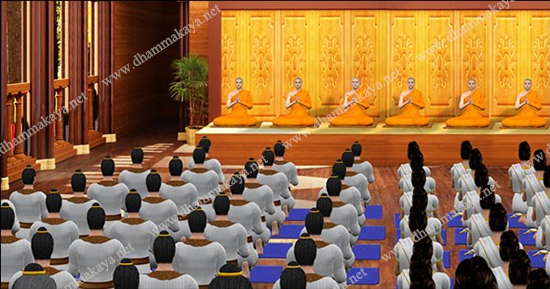 When to offer Kathina robes?
Far from being an everyday occasion, the proposition to offer Kathina robes and the offering ceremony itself must take place up to one month following the end of the Vassa period (i.e., the whole three months of monsoon season). Besides, each temple/monastery is entitled to hosting the ceremony only once a year.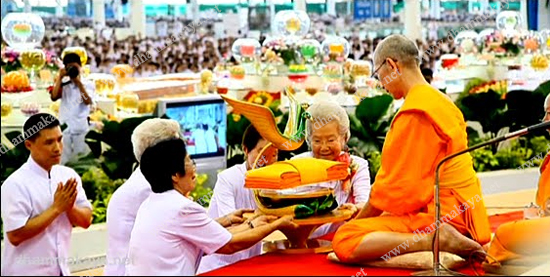 The Fruit of Merit from Offering Kathina-Robe
Kathina-Robe Offering is considered one type of offerings because the offering can be made to the monastic community without specifying any one monk in particular. The fruit from this merit is tremendous—as the Lord Buddha expounded in one of His teachings that sanghadāna, or the offering of alms, yields positive consequences for the donor. In other words, those who wish to acquire a great source of merit should perform wholesome deeds with the monastic community.
Therefore, everyone is cordially invited to participate in the Kathina-Robe Offering Ceremony at the Wat Phra Dhammakaya, where over 2,000 venerable monks and novice monks who have earnestly observed Buddhist Lent for the past three months will act as our fertile fields of merit.
Kathina-Robe Offering Ceremony 2556 B.E (2013)
Sunday, 3rd November 2556 B.E (2013)
Morning Session
06.30 am : Alms Offering Ceremony
09.30 am: Morning Meditation Session, Ceremonial Food Offering to the Lord Buddh
11.00 am: Ceremony to Offer Gold to Cast the Gold Image of the Great Master phramongkolthepmuni (Sodh Candasaro) & Sanghadana Offering Ceremony
11.15 am: End of the morning activities
Afternoon Session
01.30 pm: Afternoon Meditation Session
02.00 pm: Kathina-Robe Offering Ceremony
03.30 pm: End of the Kathina Ceremony
06.00 pm: Ceremonial Acceptance of the Kathina-Robe by the Monastic Community
******************************