Dhammachai Day
August 27th, 1969, a full moon day on the ninth month of the lunar calendar, was an auspicious day as Mr. Chaiyaboon Suthipol donned the saffron robe and became a monk, as he had wished, at the chapel of Wat Paknam Bhasicharoen. He received the monastic title "Dhammajayo", which means "The victor through Dhamma". Since then the sun of peace started to shine.
Dear all deities and those dwelling here, Black Cliff I am a Buddhist monk wearing a saffron robe which represents the flag of victory to an arahanthood. I aim with my willing power to set bloodless troops for fighting evils (Mara) here and now.
As long as all living creatures are still suffering from dhukka- birth, aging, sickness and death- and being an evil's slave. I will remain and dub the dhamma drums in the battle of samsara.
I will complete Nirvana after all being's completion. Wish all beings have peace and happiness.
Dhammajayo Bhikkhu,
(Very first day after ordination)
..................................................................

Luang Por Dhammajayo
The President of the Dhammakaya Foundation
Phrathepyanmahamuni (Venerable Dhammajayo Bhikkhu) was born Mr.Chaiyaboon Suthipol on Saturday, the 22nd of April 1944, the first night of the waxing moon in the 6th month of the Lunar Calendar at 6 p.m.. He grew up in a small house located at the bank of the Chao Praya River in the sub-district of Paeng, in the district Promburi, and Province of Singhburi. His father, Janyong Suthipol, worked as an engineer at the Industry Factory Department for the Ministry of Industry, and his mother was Juree Suthipol. The day Chaiyaboon was born, an auspicious event occurred. All of his relatives, who were angry and had never visited each other for a long time, were restored to family harmony by the birth of their first nephew. The birth of Chaiyaboon was an auspicious event for harmony, like rain falling on dry and cracked ground, restoring it back to a smooth surface.
Since his father was a government employee who had to regularly relocate to different provinces, Chaiyaboon was raised by his mother and cousins. Moreover, he had to move on a regular basis. Later, his father, concerned about Chaiyaboon's education and future, registered his son in the first grade at Talapat Suksa School, a boarding school at Sao-Shingsha.
This was good fortune for young Chaiyaboon. The chairman of the boarding school that he was attending, who was of royal blood, had no children of his own. He loved Chaiyaboon very much and asked Chaiyaboon's father if he could adopt him to be his heir. Since Chaiyaboon was the only and beloved son of the family, his father declined the offer. However, the chairman still loved him and would always bring him to the Sra Pratum Palace. This allowed him the opportunity to learn the customs of royalty from that time forward. It also gave him the chance to associate with and gain merit from the monks there. This was the start of Chaiyaboon's interest in Dhamma.
In 1950, his father received an order to relocate to Petchburi. Chaiyaboon had to be separated from the chairman since he was transferring to Aroon Pradit School for the fourth grade. After living with his father for a little over a year, he moved to Sarasithipithayalai where a famous school stood in Banpaeng District, Rajburi Province. His father allowed him to stay with a kind-hearted and generous teacher, Samarn Sang-Aroon, until he completed the ninth grade.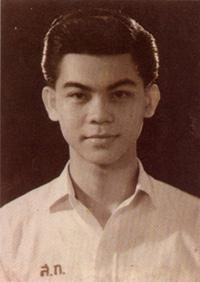 Young Chaiyaboon Suthipol
When he was thirteen, Chaiyaboon passed the competitive entrance examination to enroll in the tenth grade at Suankularb Wittayalai School in Bangkok. He was one of one hundred fifty students who passed the test from a pool of five hundred candidates. Since he was on his own most of the time, he learned how to economize and save. Therefore, this experience trained him to be vigorous, confident, and responsible. He differed from other boys who grew up in wealthy families.
According to an economical finance in his family, he has to save his daily spending to afford only diets and nutrition. He seldom bought any toys or playing equipment like any other teenagers could. Someday, he could only has a plain rice to be his lunch at school. He had to use his skill that he could tell joking stories to his friends in order to exchange courses earned with rice. His childhood experiences prepared him for his important future tasks, and after long hard work he finally reached his dream.
As he was a bookworm but he could not afford to buy any books. He had to read a book that he liked at one book shop until he was chased by the owners. He had to move to the nest shop to read the same book; again and again until finished the book at the last shop. Then one day, he came across a book titled, "Dhammakaya" in Vipassana Bantuengsarn (Meditation Magazine). This book was written in the format of a sermon by Phramongkolthepmuni (Sodh Candasaro) Luang Pu Wat Paknam Bhasicharoen. There was one particular quote: "If one wants to follow in the right path of Buddhism, one has to practice until one gains complete comprehension and understanding." At the end of this book, it showed a confirmation that Wat Paknam Temple was able to teach until attaining complete comprehension and understanding. This statement delighted him because he knew he had found the right path. This propelled Chaiyaboon to want to learn meditation at the temple. From that point on, he planned to go to Wat Paknam Temple to study the Dhammakaya Meditation Technique.
In 1963, at the age of nineteen, he was preparing to take the entrance examination for university-level studies. The young man, Chaiyaboon, made a decision to go to Paknam Bhasicharoen Temple to find a master to study the Dhammakaya Meditation Technique. When he arrived at the temple, he asked different people for a meditation master that referred in the magazine, Mother Acariya Chandra, but no one knew. But they knew only a Teacher Chandra. This made him think that these were two different persons. Since he couldn't find her, he concentrated his efforts on the entrance exam. He passed the exam and was accepted at Kasetsart University.
In the first semester, freshman Chaiyaboon was very focused in his studies. Later, at the end of the first semester, his thoughts of Mother Acariya Chandra resurfaced. So, he decided to go back to Paknam Bhasicharoen Temple again in October 1963. After practicing meditation for a period of time, he discovered that Mother Acariya Chandra was Teacher Chandra. So, he was taken to meet Teacher Chandra, 58. Finally, they both had the opportunity to meet one another. Later, he learnt meditation only with Teacher Chandra at Paknam Temple. He and Teacher Chandra were like a grand son to a kind old lady, he finally called his teacher "Khun Yay" (a pronoun to call old lady with respect).
Years had passed, he meditated deeply and attained inner peace, Chaiyaboon's confidence in the knowledge found in Buddhism continued to increase. He saw that the fruits of meditation could release humans from their suffering, and had indisputably answered the many unresolved questions he had in his mind. Later, young Chaiyaboon came to a clear realization that the knowledge of the world could not truly keep humankind from suffering, or be able to attain true happiness; only the wisdom derived from meditation could help. Chaiyaboon then decided to ask Khun Yay for permission to become ordained as a monk. On Khun Yay's birthday in 1968, through his recollection of Khun Yay's benevolence for the kindness she bestowed with the teachings of Dhamma, along with an act to demonstrate his gratitude, Chaiyaboon wanted to present a gift to her by making a vow of truthfulness and to remain celibate for the remainder of his life.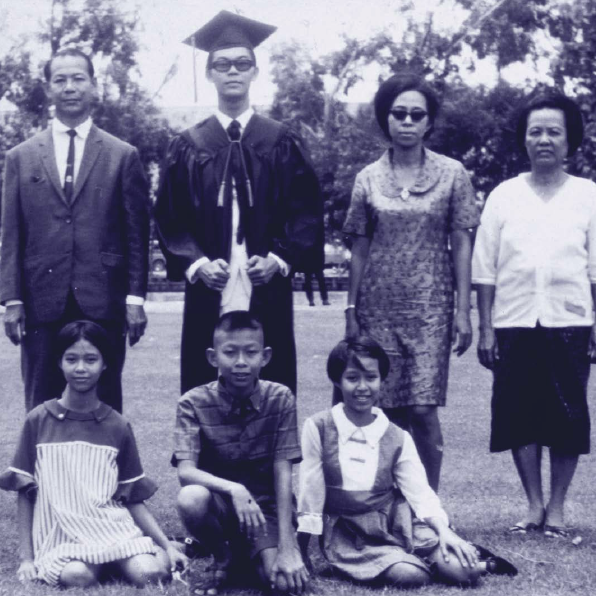 Young Chaiyaboon Suthipol with his family on the graduation day
In April of 1969, Chaiyaboon graduated with a Bachelor's degree, with a major in Economics and Administration and a minor in Farming. After receiving his degree, he immediately informed his father of his desire to ordain for life in the Buddhist monkhood. August 27th, 1969, a full moon day on the ninth month of the lunar calendar, was an auspicious day as Mr. Chaiyaboon Suthipol donned the saffron robe and became a monk, as he had wished, at the chapel of Wat Paknam Bhasicharoen. Phrathepwarawaetee (currently, Somdejphramaharatchamangkalajahn, abbot of the Wat Paknam Bhasicharoen, Thailand), was his preceptor, Phrakrupipatdhammakanee was his senior examining monk (Kamavacacariya) at the ordination, and Phravicheankawee was his junior examining monk (Anusavanacariya). He received the monastic title "Dhammajayo", which means "The victor through Dhamma".
After his ordination, he gave a speech of his thoughts about the principles of ordaining as a monk: "Ordaining as a Buddhist monk is not an easy task, just simply donning a saffron robe is not enough. One must train oneself to take 227 precepts as well as the daily routine of a monk's life, in accordance with monastic disciplines. If one wishes to attain the full fruition from the merit accrued from ordaining one must be able to be a refuge for Buddhism, not just taking refuge in Buddhism."